The decision to race in the Finke desert race in Alice Springs 2015 was grabbed with both hands, the plan to race with mates and holiday with my family soon fell into place and 12 months of preparations began. 
The realisation of what was being undertaken was not truly realised until the 1st day of pre running a section of the Finke race track 12 months after the journey had began.
For anyone that is unfamiliar with what Finke is, it is Australia's longest fastest 2 day off road race stretching 229km from Alice Springs to Aputula (Finke) in the heart of the Northern Territory. Each year 600+ bikes and 300 buggies race from Alice to Finke camp the night to then return the following day. We had entered in the bike class and would be racing with 650 other bikes.

My race was not only physically the hardest thing I'd attempted but mentally it was off the charts with multiple situations that really tested my mental strength and taught me the power of focus, commitment and resolve.

Firstly I am far from the best dirt bike rider and I don't have a love for going crazy fast off-road with a fear of the consequences always lingering in the back of my mind so why sign up for the fastest race in Australia? Well it was to test myself and see if I was capable. Each yr approx. 1/3rd of riders don't finish and the track is renowned for getting harder and more dangerous each year due to the impact the 800hp trophy trucks have on the track. 
2015 was also the 40th year of Finke so boasted the biggest field to date.
Right, now for why it is a story I feel is worth sharing, As I mentioned the reality of what we were about to tackle really hit home as we tried riding 40km of the Race course the day after arriving at Alice. We pulled up at the turn around area and all looked at each other with shock and fear on our faces. Yes we trained, yes we spoke to people that had previously done the race and yes we thought we were prepared but the reality is until you step into the harshest environment you are never prepared. Our bikes didn't handle the track our bodies didn't handle the bikes and our minds didn't handle the enormity of it all.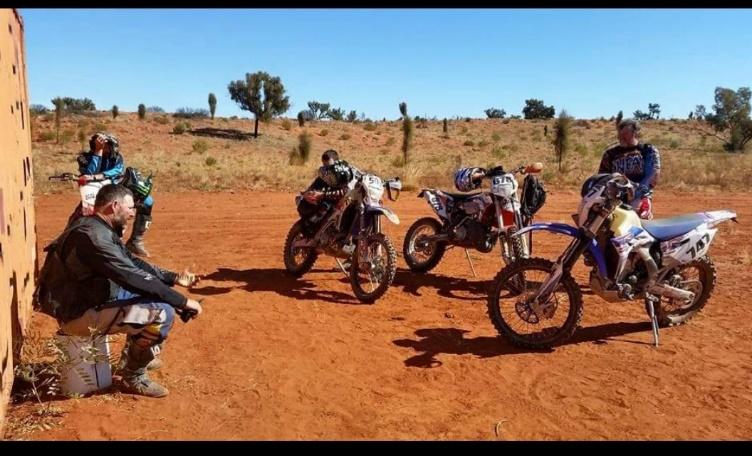 2 days of clicking suspension settings and trial and error we slowly started to think that if everything went 100% in our favour we may survive this race. Long gone were any thoughts of actually achieving any more than that. Survival was the only thought on our minds.
The race format is qualifying on the Saturday race to finke on Sunday and race home again on Monday. The race orgainsiers had given us and extra 1/2hr each day which means we have 4 ½ hrs to get to Finke and 4 ½ hs to get back. If you miss the cut off on day 1 there is no racing home on day 2.  
Prologue is around an 8km course and the only thought during this time was don't show off this is not the race this is just what's required to get to the race. Finishing prologue gets you a spot on the start line beside 9 other dirtbikes of similar speed and hopefully skill. I qualified mid to back of pack. Here's where things get interesting, The mind has processed the start the nerves were under control until race day rolls around and the adrenaline is flowing and energy is spent trying to control this and the fear that is sitting in your belly. The family are nervous and everyone is trying to remain calm. The cars/buggies race first leaving pre dawn and the bikes start midday once the track is clear. The first few bikes tear off into the dust and it's soon apparent that something isn't quite right when we see quads and bikes lined up and start times are mixed up neither of these things should happen. Soon enough officials start walking down the line of hundreds of bikes saying a mistake was made in timing and just to line up and start whenever. Instantly the brain starts to go into panic mode am I to far forward meaning I will be getting passed by faster riders constantly or am I to far back meaning I will struggle in the dust with slower bikes in front. No time to compute it all, try to calm down and focus on survival again this race is you verses the track, you vs you.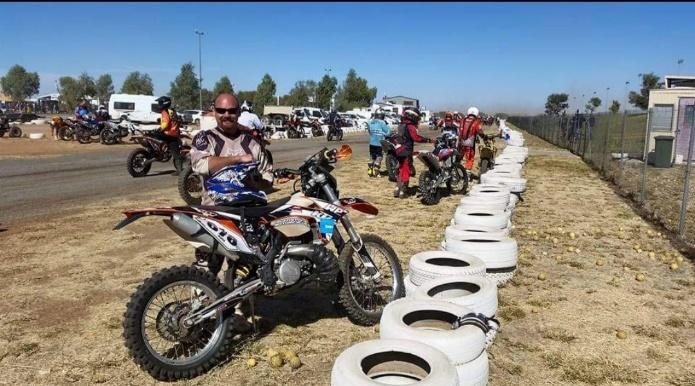 The flag drops and 10 bikes tear off towards the first corner some guys are going for the win some are being conservative my goal was not to be first or last I didn't want to have to try and pass 9 bikes to get clear air but also wanted to clear the spectators before having any mishaps.


The first 40+ kilometres went reasonable well, my brain was running a million miles an hr trying to find focus and rhythm processing what had happened and what lay ahead it was about this time that the race changed completely for me. A bike passed me and as I rounded the next corner all I saw was a body lying in the middle of the track. I locked it up dumping my bike on the edge of the track and run over to the guy to see if he was ok. He was laying on his side almost in the recovery position unconscious and barely breathing having come off doing in excess of 80km/h I knelt beside him and was screaming at him to stay alive. Having no idea what his injuries were I placed my head near his chest and face to check for breathing and got short gasps in every few seconds with basically no exhale. I have very little first aid training and no experience in this type of situation so my first response was one of panic. A second rider arrived and moved the bike of the track before coming to check on us. We must of spoke briefly and then he tore of up the track looking for help. I am not sure how long a waited with the rider and his condition never changed he was gasping for breath and non-responsive I believe it was only a couple of minutes before a female police officer arrived and took charge directing me to continue on with my race.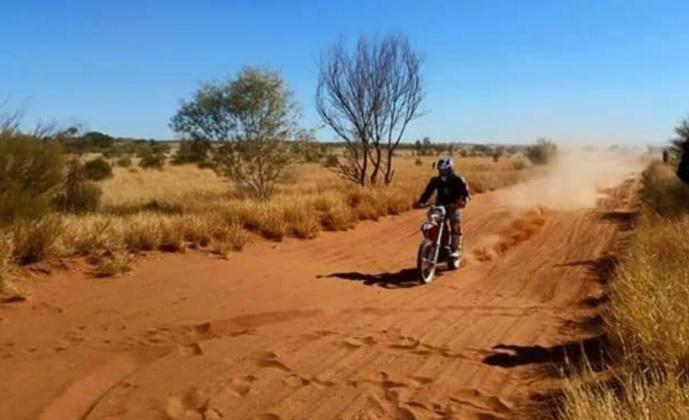 I stumbled back to my bike clicked it into gear and started slowly off down the track not really being able to process what had just happened and just numb. I took a couple of minutes before I started to have an enteral conversation and for the next 10km I did an  indepth analysis about whether to continue the race of pull out. I knew I would have a accident if I couldn't let go off what I had just witnessed  so over and over I told myself I had two options.
 Option 1 pull out of the race and ride back to Alice no one would judge or disrespect me for making that decision.  Or option 2 forget about what had just happened clear the mind and refocus I think it took maybe another 10-15km to put it to bed and I decided to continue on with my race. The rest of the day went reasonable to plan kilometres and kilometres of energy sapping whoops bull dust clouds that you couldn't see a meter through, the odd fall off only to pick myself up and get back going again. I meet and passed one of my friends who had had a fairly fast accident but was ok just sorting his own head out before finding the groove again. Day 1 finished right on 4hrs of racing and I actually crossed the finish line with my friend which was cool.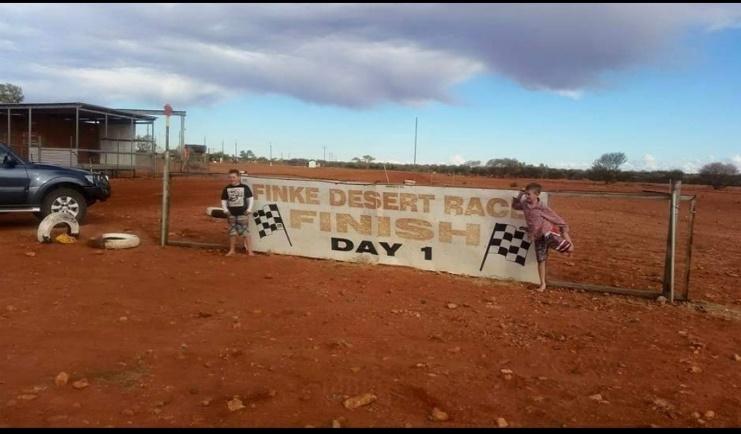 We rolled into our pit area to meet friends and try and get bikes, bodies and minds ready to do it all again on day 2. I tried finding the results for the injured rider as I had his bike number burned into my mind but for some strange reason he didn't even show up as starting the race this made me ? if he had survived or not and I really had to try and digest what I have witnessed on the day. 
Day 2 started off a little more relaxed without the mix up of start times and our only goals were to once again survive and get home to loved ones. I am definitely not exaggerating the level of risk involved and unfortunately there has been fatalities during this race. 
I leap frogged my mate for the first 30 -50 km and we enjoyed a good race against each other glimpsing the odd fallen rider or blown up motorbike as we raced home.  The body was hurting pretty bad after two days of absorbing the punishment. Fatigue started showing up with more and more little mistakes due to weakness or lack of concentration, This is when It was vital to keep the mind focused and process every inch of the track for hidden obstacles. It took until approx. 40km from finishing Finke to finally feel confident enough to think that I might actually make it. The trip to Finke and back was a hell of an experience and one I will not soon forget. The relief I felt when crossing the finish line and seeing my family was overwhelming and a sweaty hug was a must. I'm not sure who was more relieved my wife or me but I was very glad it was all over and extremely proud to of finished.
 Always in my mind was the concern for the guy that had the accident on day one and I spent significant time trying to track him down we would go on to connect through Facebook and I found out his injuries were quite significant but he made a full recovery over the following 18months.
The lesson I took from this experience is to stay mentally calm in a crisis focus on the plan and execute. Adjust when conditions change but always look ahead and be clear on the end goal.